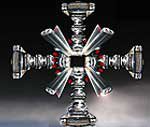 Requiem for fossil fuels , with its eight channel "orchestra" derived from resonances found in cities around the world and four virtuoso singers is a completely new setting of the Requiem mass for modern times. It is meant to be performed in significant architectural spots that mark our culture's fascination with and dependence on fossil fuels. The piece is the culmination of all their work with sound, music, culture, and public space. It is a profound observation on how we use power and what we have become. More info . . .
"my eyes. . . my ears. . . " This performance piece by O+A explores perception, memory and the failure of the 'sonic commons'. In it O+A take you on a tour of the city that formed the model of the modern soundscape, NYC, with site specific inserts documenting the soundscape of the venue itself. (40 min) This work is intended to be paired with a round table discussion on the politics of the senses, the loss of the sonic commons-with architects, city planners, economists, neurologists, etc. (2 performers, 4 channels of sound, video projection and two plasma monitors) More info . . .
O+A are interested in making permanent installations which alter and humanize the sonic identity of public and private space. Each installation or intervention must by nature of the work be site specific. This work can exist on a variety of scales, and in a variety of environments. The installations utilize O+A's signature tools for transforming the random urban noise into a harmonic musical atmosphere in real-time. More info . . .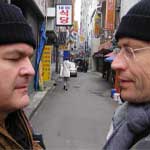 O+A regularly give presentations, talks, keynotes and workshops on their topic of a "Hearing Perspective" of the world we live in.

These talks are multidisciplinary and touch on the fields of architecture, urban planing, cultural studies, art and aesthetics, economics, ethics, and promote the role of active listening in a visually dominated world. More info . . .